434 West Greenbriar Lane is an urban oasis located just steps away from the bustling Methodist Dallas Medical Center. Still, this Kessler Park build's surroundings feel reposeful and almost remote, with rolling green lawns separating each home from the next.
The house sits on a grassy hill and has a dramatic paved driveway that leads guests to the front door. This architectural gem celebrates asymmetry, from its dramatic angles and overhangs to its artful blend of concrete, steel, glass, and wood.
Inside, huge windows capture natural light from all angles and warm hardwood floors play up the treehouse feel. The interior design evokes a modern loft, with clerestory windows—those are horizontal panes at the highest point of a wall— and concrete walls with built-in fireplaces as well as industrial-style floating stairs.
The home's extra-tall ceilings create a museum ambiance, and its unusual wall placements are perfect for an art collector to display pieces of varying sizes. Those who actually dabble in the arts will appreciate the current owner's studio setup upstairs, where a floor-to-ceiling window frames the lush foliage outside.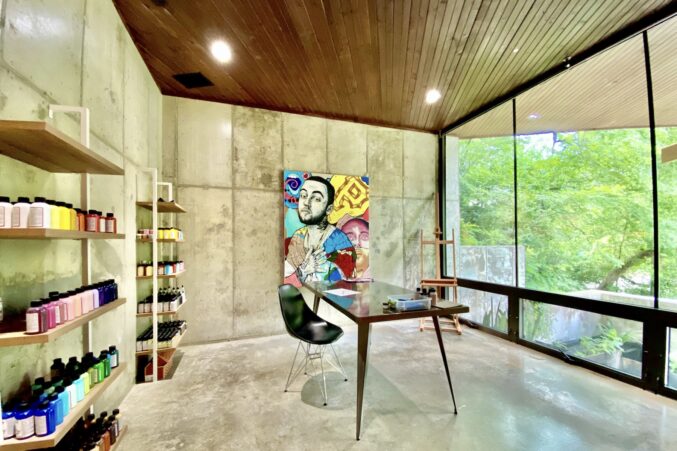 The spacious kitchen incorporates windows on every wall, showcasing the treetops that surround the three-story home. Even the bathrooms have windows, again near the ceiling, to let in ample sunlight while maintaining privacy.
To round out its indoor-outdoor vibe, this home also boasts a zen garden and a nature-inspired mural depicting succulents and leaves.
To see more of this cool contemporary build, check out the gallery below.